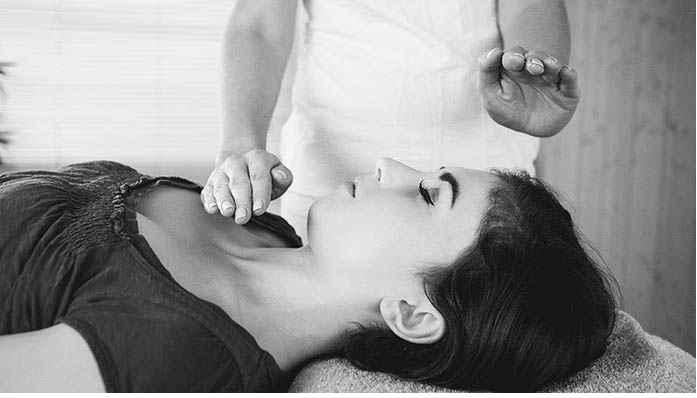 To book a Reiki Treatment you can use the online booking calendar. Alternatively, you can 'call 01664 454 623 or 'text' 07434 941 295 ( local signal is poor for calls but texts do come through!) or email hello@naturallivingtherapies.co.uk.
To discuss your treatment before booking please call Ruth on 01664 454 623
---
What to expect during a Reiki session
A Reiki treatment session is usually between 60  – 90 minutes. Clients often report that they experience a very deep state of relaxation, sometimes they feel very light and unable to feel any pain sensations in their body. Clients who find it difficult to relax and suffer from anxiety or stress find Reiki sessions a welcome relief where they are able to relax and let go. Some clients will see lots of colours and shapes others will experience sensations, from hot to cold areas, to tingling or swirling sensations in specific areas of the body. This is completely normal and is part of the healing as the energy is re-balancing within and around your body.
An initial consultation will take place to understand what you want to achieve from the Reiki treatment and also to take you through what will happen in the session and how you may feel.  Once the consultation is completed then the Reiki treatment will be performed on you whilst you are fully clothed either laying down or sitting comfortably in a supported chair
Reiki is offered through either light, non-invasive touch with the practitioner's hands placed and held on a series of locations on the head and front and back of the torso. Or the practitioner will position their hands just off the body without making any physical contact.  The placement of the hands is never intrusive or inappropriate, nor should there be any pressure.
The Benefits of Reiki Therapy
When we are relaxed, stress-free, we are able to restore our natural ability to heal. Long-term practice of whole-body Reiki will restore the general condition of the body. It will open the energy channels and this will allow the body to deal properly and naturally with stress and build-up toxins and cope with anxiety and depression.
When a person is in good health, regular therapy will increase the bodies built-in defences. This will manifest itself as confidence and outward harmony in dealing with everyday events. The person will gain a positive outlook on life.
A Reiki healing session can induce an extremely comfortable state of being that can bring alteration in the client's consciousness.
It can be used also as a complementary therapy because Reiki is truly a complementary care. It complements and enhances the health care the patient receives in the hospital or from other healthcare providers.
Some more Reiki Therapy Health Benefits
Creates deep relaxation and aids the body to release stress and tension,
It accelerates the body's self-healing abilities,
Aids better sleep,
Reduces blood pressure
Can help with acute (injuries) and chronic problems (asthma, eczema, headaches, etc.) and aides the breaking of addictions,
Helps relieve pain,
Removes energy blockages, adjusts the energy flow of the endocrine system bringing the body into balance and harmony,
Assists the body in cleaning itself from toxins,
Reduces some of the side effects of drugs and helps the body to recover from drug therapy after surgery and chemotherapy,
Supports the immune system,
Increases vitality and postpones the ageing process,
Raises the vibrational frequency of the body,
Helps spiritual growth and emotional clearing
Reiki will also provide additional energy required to recover from illness.
---
If you would like to book a Reiki Treatment you can use the online booking calendar.  Alternatively, you can 'call' or 'text' 07434 941 295  or email hello@naturallivingtherapies.co.uk.To discuss your treatment before booking please call Ruth on 07434 941 295
---
Covering Leicestershire & Rutland including: Oakham, Uppingham, Melton Mowbray, Stamford, Asfordby, Barrow Upon Soar, Twyford, Somerby, Whissendine, Wymondham, Barnsdale, Pickwell, Great Dalby, Frisby on the Wreake, Tilton on the Hill, Langham, Burton Lazers, Cold Overton, South Croston, Barkby, Beeby, Ashby Folville and other surrounding areas.