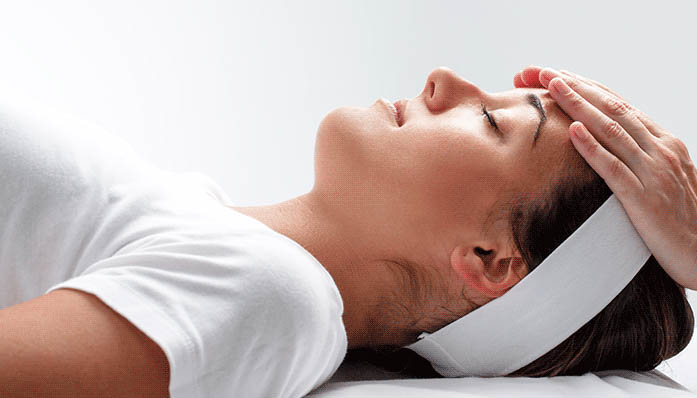 To book an Indian Head Massage Treatment you can use the online booking calendar.  Alternatively, you can 'call' or 'text' 07434 941 295  or email hello@naturallivingtherapies.co.uk.To discuss your treatment before booking please call Ruth on 07434 941 295
---
Indian head massage has been practised in India for over 1000. years, it is a safe accessible and convenient the therapeutic treatment which can provide instant 

relief from tension and stress symptoms and induce a state of calm, peace and tranquillity.
The Gorgeous Benefits of Indian Head Massage Treatment
General and specific relaxation of muscles

Fibrous adhesions (knots and nodules) can be broken down.

Loosening of the scalp.

Relaxation of the whole body.

Dispersal of toxins from tense, knotted muscles

Improved circulation of blood and increased oxygen uptake.

Stimulation and improvement of the circulation of the lymphatic system.

Help in the relief of eyestrain and tension headaches.

Excellent for disturbed sleep and insomnia

Help with mental tiredness and tension.

Improved concentration.

Relief from mental and emotional stress.
The Indian Head Massage Treatment
You will receive a short consultation with the therapist to highlight any areas you wish to focus on. A brief medical questionnaire will be required to ensure that the treatment is safe to be carried out. It also allows you to ask any questions you may have as well as allowing the therapist to determine whether a treatment is suitable. (Treatment may be unsuitable due to some medical conditions, please check the contraindications page for more details).
Indian head massage and focuses on the upper back, neck, shoulders, arms, face and scalp. The massage is usually performed with the client seated in a chair in an upright position. 
The treatment lasts for 45 minutes it can bring relief from aches and pains, promotes a healthy scalp and hair, it helps relaxation of the whole body, dispersal of toxins from tense knotted muscles, improve circulation of blood and increase oxygen intake, basically it helps you to relax so you can function more calmly and efficient.
This massage can be performed through clothes, the benefits of this are that if you are short of time e.g. on a lunch break, on your way to or from work you can be ready to begin and leave much sooner. Some people prefer to remain clothed if you have arrangements after the massage leaving with oil on your skin may not be appropriate.
With or without massage oils it's  your choice
If you choose to have the massage with oils you will be given a towel to wrap around you under your arms so that only your upper back shoulders and neck are exposed. There are several oils to use from, these can be selected for their seasonality, properties or personal preference to smell and texture.
Spring and Summer sesame and coconut oils are chosen as they are light
Autumn and Winter mustard or olive oils are chosen as they are warming.
At the end of the treatment, you will be able to dress and then take a seat to have some water before going back out into the world.
---
To book a Reiki Treatment you can use the online booking calendar.  Alternatively, you can 'call' or 'text' 07434 941 295  or email hello@naturallivingtherapies.co.uk. To discuss your treatment before booking please call Ruth on 07434 941 295